Dryer Chain Link Conveyor Belt
This type of wire mesh dryer belt is used to go through thermo dryers. High temperature degree dryer applied. Custom size available.

Material Grades Options:
The dryer conveyor belt is made of stainless steel 304 or 316 grade material applying to food processing and other high heating process.
The dryer conveyor belt can be made of 430, 302 or other grades applying to industrial plants drying.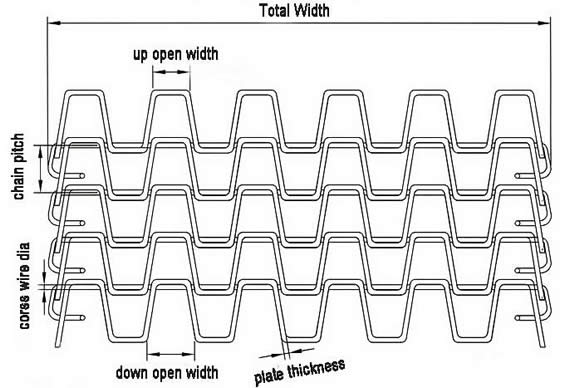 CHAIN LINK MESH BELT STRUCTURE ILLUSTRATION with Cross Wire, Up and Down Open Space, Plate Thickness and Chain Pitch

MESH BELT APPLIED FOR INDUSTRIAL DRYER TEMPERATURE 150 degrees and up. Supplied for Peru market.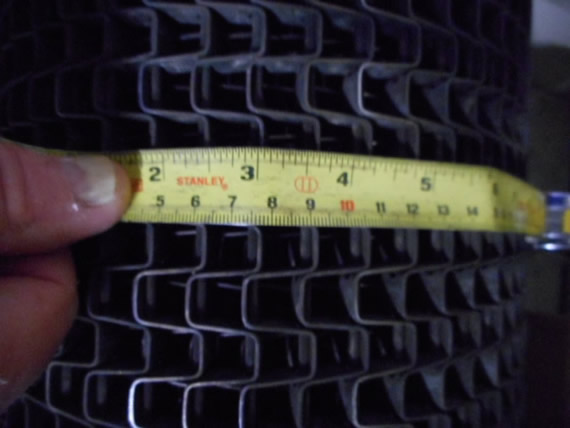 HONEY COMB 304 S S DRYER BELT, 1m width x 7 m length, the chain can withstand 700 kg weight capacity.
Pitch : 1" x 1" Width : 1000mm
Patti Size: 1.5 mm Thick X 12.5 mm Width
Material: stainless steel 304
430 Grade Stainless Steel Mesh Drying Conveyor Belt Models

Belt width 300mm( 3 Spiral pitch ):
Spiral pitch 100mm
Rod Pitch 7mm
Wire Diameter:2mm

Belt Width 440mm( 4 Spiral pitch ):
Spiral pitch 110mm
Rod Pitch 7mm
Wire Diameter:2mm

Belt width 600mm( 6 Spiral pitch ):
Spiral pitch 100mm
Rod Pitch 7mm
Wire Diameter:2mm