Light Structure Flat Flex Wire Conveyor Belt Draining Screen
General Introduction: Flat Flex Metal Conveyor Belt is light and smooth conveyor fabricated in Flexing structure. Flex style mesh belt has lightweight structure for easy handling and quick installation. Most Flexing Design Belt is made of ss sus304 or 316 while other materials can be optional.

Standard flex mesh belts can be made from three common materials: C-1008 low carbon galvanized steel, C-1040/C-1055 high carbon steel and type 304 stainless steel (other materials are available upon request). This light duty belt is used in conveying, drying, draining and processing of food, meat, candy making, medicine and other uses. The dryer conveyor belts widths range from 7" to 192".
The stainless grades can be SUS304, SUS316 or SUS316L. Galvanized steel and hot dipped steel materials optional.

This kind of metal flexing conveyer screen belt has smooth surface offering corrosion resistance, acid and alkali resistance and can be used under high temperature conditions.

Flat Flex Mesh Belt Screen is ideal for breading, battering, cooking, coating, or almost any application from freezing to heat conditions.
SUS304L Stainless Steel Flat Flex Wire Mesh Conveyor Belt with Welded Selvage
Belting Sizes and Mesh Opening:
A wide range of choices for customers while accepting custom sizes.
Popular wire belting types:
1/8" X .050
1/2" X .072
3/8" X .050
1/2" X .092
3/8" X .062
3/8" X .082
5/8" X .120
We Offer General Purpose Standard Flat Flex Belting,including:

Standard General Purpose Metal Conveyor Belt with Flexing Design is made of ss sus304 or 316. It works with most conveyors. The most common mesh specifications are 1" x 1" and 1/2" x 1". A wide variety of other sizes are available upon request. Belt length is not limited.
The Standard Conveyor Belting Edge Treatment: Standard belt is equipped with clinched edge (except for True 1/2" x 1/2") to prevent mesh shrinkage on the rods, but can also be furnished with button-head welded edges.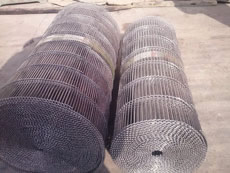 Stainless Steel Belt, Packed in Rolls / Light Duty Flat Wire Belt, SUS316