Round Wire Woven Belt with Double Rod Reinforcement for Heavy Loads
General Introduction:

The woven wire metal conveyor belt with
double rod reinforcement
is an assembly of double spirals made with round steel wire. Usually right-hand, inter-woven into a preceding pair. The spirals are reinforced by a straight cross-rod connector passing through its vertices.
Features and Uses:
Although similar to one-rod reinforced belting, this type of weave belt has greater strength and a flatter surface for carrying small parts. Its greater tensile strength makes this belt ideal for carrying heavier loads.
Wire Materials Choice:
Stainless steel or mild steel.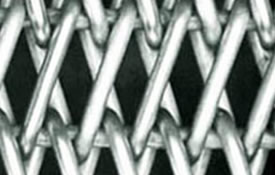 Samples of Metal Conveyor Belting Reinforced with Double Rod Samples, Stronger Carrying than One Rod Belt.
Round Spiral Wires Conveyor Belt Mesh
Architectural Decorative Flat and Round Spiral Wires Conveyor Belt Mesh