General Information
: Dezhong is an exporter of industrial conveyor belts, or industrial belt conveyor systems. Designed with reasonable design, compact structure, specifications, ease of installation, reliable operation.
Material: Stainless steel wire, iron wire, low carbon steel wire, galvanized wire, nickel chromium wire, iron-chromium-aluminum wire, polyester wire.
Uses: Widely used in petroleum, metallurgy, food processing, machinery, pharmaceutical, glass, PCB equipment and other industries.
Industrial mesh belts has good corrosion resistance, wear resistance, high temperature resistance. Usually used In the negative and high temperatures, has satisfactory anti-shrink, anti-oxidation, anti-fracture properties.
Industrial conveyor belts Specification: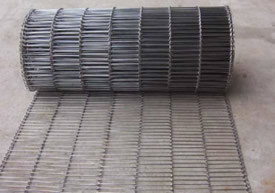 Conveyor Belts Size:
Mesh width: 150 ~ 5500mm
mesh belt speed: 0.15 ~ 0.50m/min
temperature: -40 ℃ ~ 1050 ℃
in the form: curved edge, upsetting the head, welding and other forms.