Chevron weave mesh belt for conveying and carrying small parts and stuffs, for Example, Biscuits production line
General Introduction:
Chevron mesh belt is made with spiral wires fitted with straight ring rods. It has thick wires connected to each other to form a close mesh structure ideal to prevent small articles from leaking.
This type of wire mesh belt provides the highest tension. Smooth belt surface is appropriate for transferring unstable items.
Wire Materials Choices:
Mild steel, carbon galvanized steel, 304, 302, 316 stainless steel. Other materials are available upon request.

Structures:

The left-wound right-wound spirals are fitted tightly together alternately and jointed with straight rods. A4 uses 4 rods for one spiral to joint. A3 uses 3 rods for one spiral to joint.

Advantages:
1.Since the surface is flat and smooth, the belts can carry small items and unstable products.
2.The allowable tension is high, so that heavy load can be transported.
3.The chevron design wire belt has high strenghth against pressure, it can be used for processing under pressure.
4.Can be used at high temperature.
5.Can be used for textile products refining and cleaning process.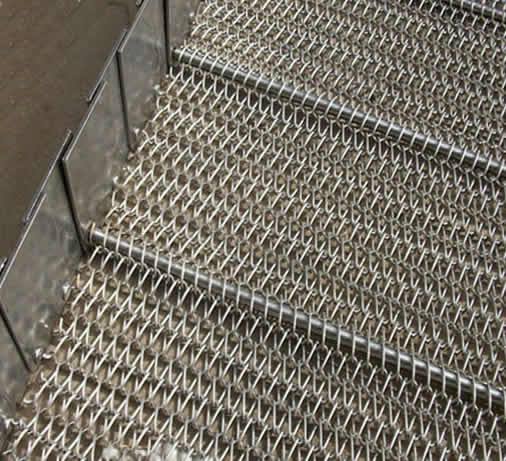 Belting Edge Treatment:
The edge can be welded, clinched, chain link or chain plates.
Uses:
Due to its unique structures, this closely woven wire belt it is suitable for conveying and carrying of small parts and stuffs, for biscuits production line, for example.



Samples of Metal Belting Conveyor, Chevron Wire Structures, Dense Mesh Flat Surface